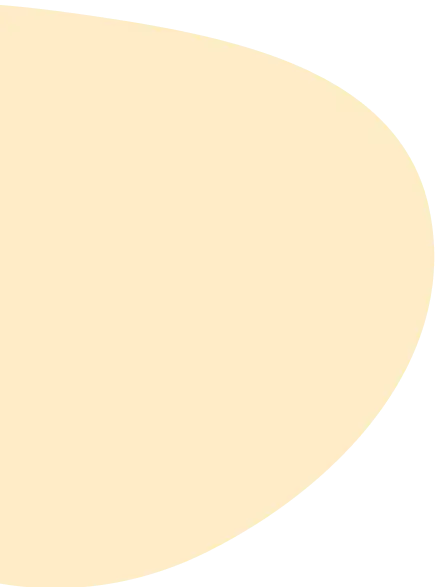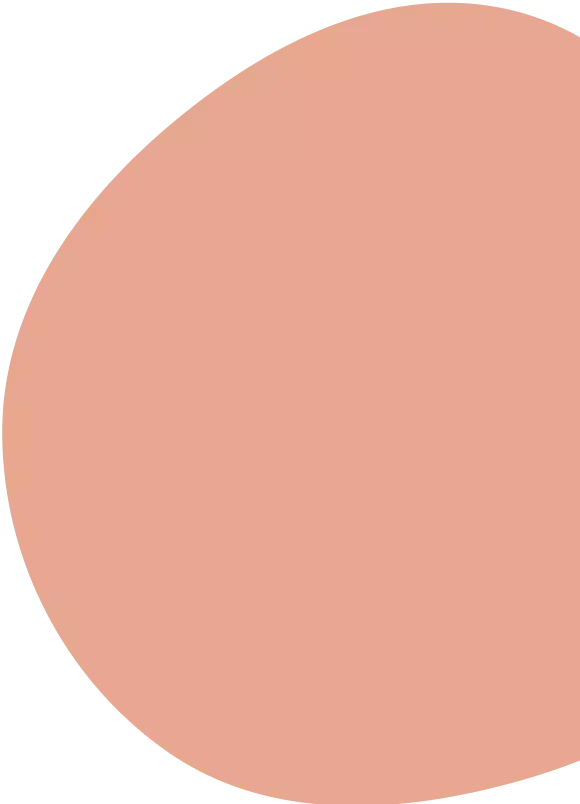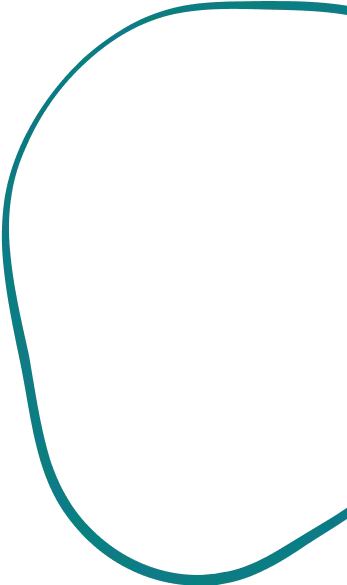 Reviewed by a licensed advisor
Managing Employee Health Benefits Year-round: Checklist and Timeline
Figure out what needs to be done — and when — throughout the policy year.
Last update:
14th June 2023
Reviewed by a licensed advisor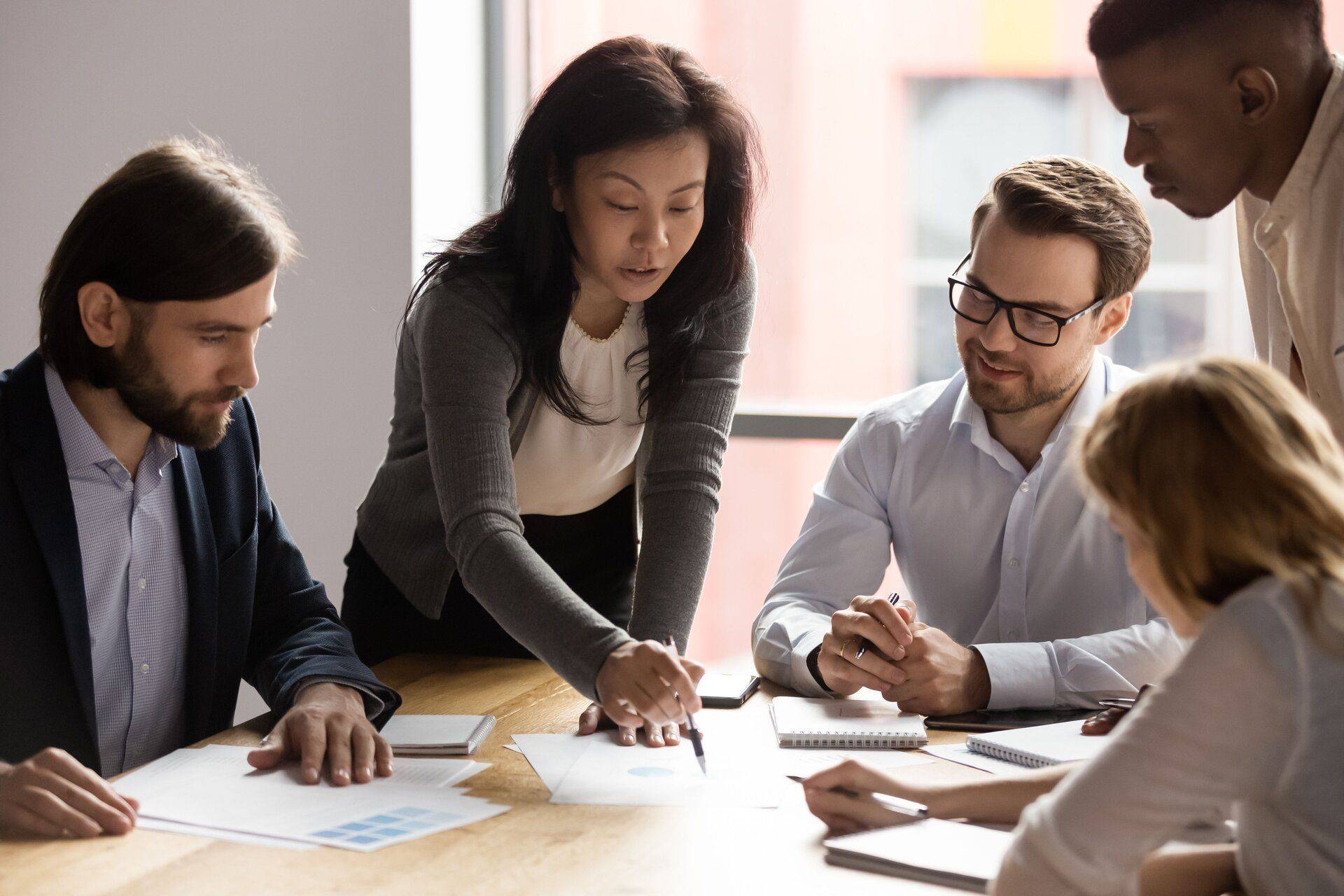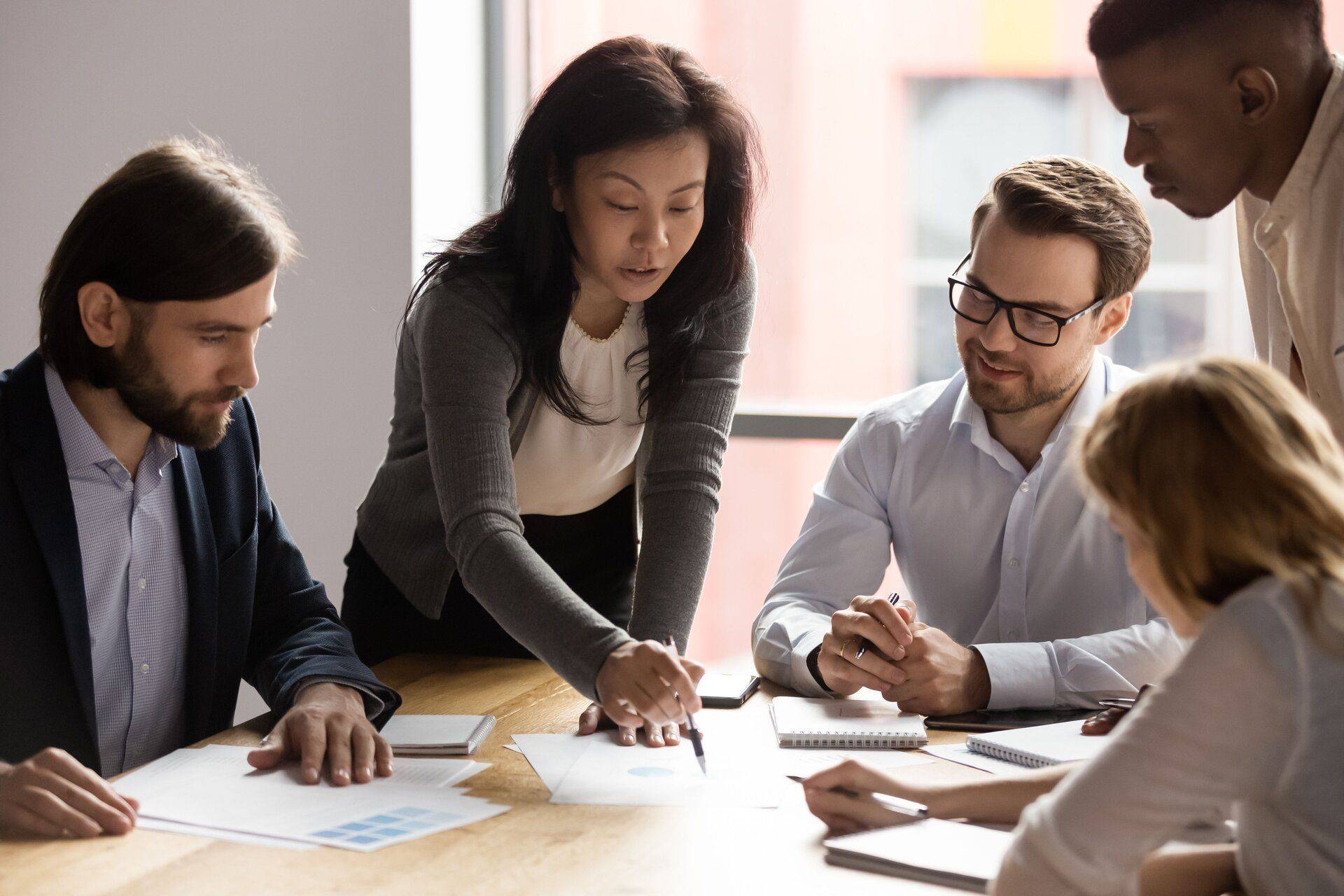 Figure out what needs to be done — and when — throughout the policy year.
Last update: 14th June 2023
No matter what stage you're at in your employee health benefits policy year, Alea has you covered with a checklist and timeline to guide you along the way.
You'll learn how to effectively onboard your employees and gauge if they are happy with their benefits. You'll also learn how to assess if your plan is delivering the best value so you can make the right decision when it's time for renewal.
At the beginning of your policy
Your team's coverage officially starts from the effective date stated in the policy contract.
Onboard your employees
To get things started, distribute insurance cards, policy information and relevant resources to the members of your team. You can also arrange for your insurance advisor to conduct a private briefing session for your staff to educate them about their benefits and how to file insurance claims.
Set up your administrative account
The insurance company will provide you with employer accounts to designated administrators for their web portal (if one exists), through which you can manage your company's plan. At this point, it's a good idea to learn how to add and remove members from your plan so that you'll be ready when you need to onboard new hires or offboard leaving employees.
6 months into the policy year
Halfway through the policy year is the perfect time to get a clear idea of how your team is using their health benefits.
Check in with your broker for a mid-year evaluation
Your broker can help you conduct a mid-year review of your company's claims history to help you plan ahead. They'll flag ongoing claims issues you weren't aware of before and answer any questions you might have about how your policy is going.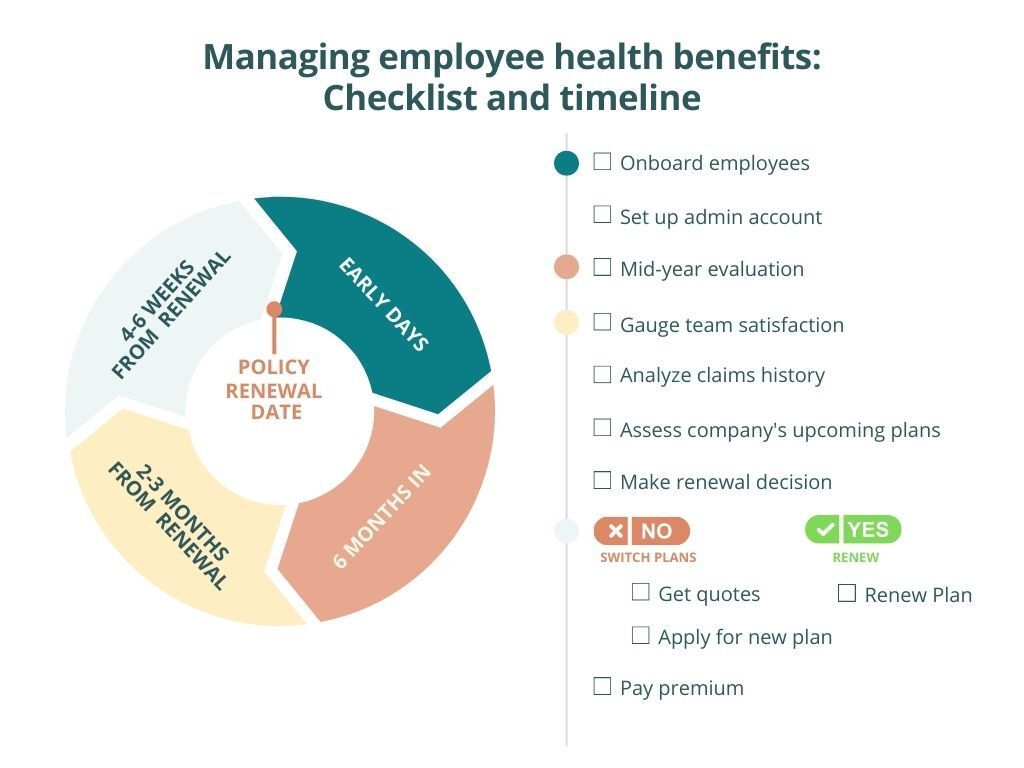 2-3 months before renewal
With your policy renewal date on the horizon, you'll want to start gathering information to help you decide whether to renew or switch plans.
Gauge your team's satisfaction with the plan
Distribute a survey among staff to assess their satisfaction with their employee health benefits. An anonymous survey allows team members to express their thoughts and concerns without fear of reprisal.
Get the survey template for free when you download Alea's Ultimate HR Guide to Employee Health Benefits (pdf).
Analyze your claims history
Through your employer account, you can access your team's claim history on your insurance provider's web portal. You'll be able to see which benefits were used the most and which were used the least. This data will help you understand usage patterns and determine if your coverage should be adjusted for next year.
Assess your company's plans for the coming year
If your company is about to undergo some changes – whether in size, growth strategy, business model, and so on – it is very likely there is a more suitable group health insurance product for you to consider for the following year.
Make a decision about renewal
Based on your assessment, decide if you will stick with your current plan or consider other options. The sooner you can make this decision, the more time you will have to properly evaluate other options.
Get quotations from your broker
If you'd like to change insurance plans for next year, work with your broker to identify alternatives. This will leave you with enough time to talk things through with your broker and select a suitable plan.
EXPERT TIP: November, December, and January are peak months for policy renewals. During this season, insurance companies may take longer than usual to process renewals and gather quotations. Speak with your advisor to kick off your renewal process earlier to avoid the holiday rush!
4-6 weeks before renewal
Insurance companies will typically send you a renewal notice four to six weeks before your policy renewal date. At this point, your broker will very likely reach out to you to discuss renewal.
Renew your plan
If you're satisfied with your current policy and no changes need to be made, then you can get the go-ahead from upper management and renew your plan. Just beware that you will likely see an increase in the premium year on year because of medical inflation – this is normal and to be expected.
Apply for the new plan
If you are switching insurance plans, now is the time to submit your application with the insurance provider. A new application, once submitted, takes around two to three weeks to process. Once the application has been approved, the insurer will send you a confirmation notice, policy documents, and medical insurance cards.
Pay the premium
Premium payments are usually made by cheque or bank transfer annually or twice a year (either upon application or at the end of the policy year). Check with your broker or insurer to find out the specific payment arrangements.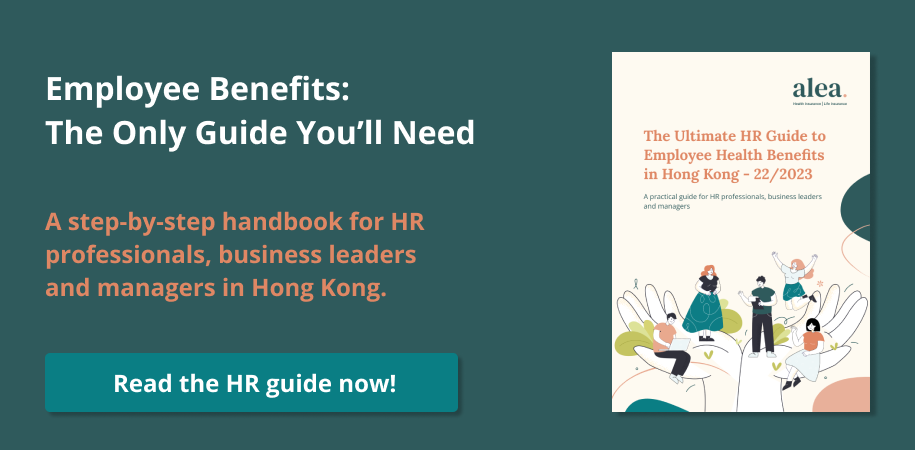 FAQ
I am in charge of obtaining a group health insurance plan for my company and our staff. Where do I begin?
What is the difference between an insurance agent and insurance broker?
Insurance agents and insurance brokers are both insurance intermediaries serving as a liaison between insurance companies and insurance policyholders and customers. The key difference lies in whose interests they represent. An insurance agent is employed by an insurance company and represents its interests, whereas an insurance broker represents the interests of the policyholder or customer.
How do I pay the premiums?
Typically, premium payments for group health insurance policies are made by cheque or bank transfer, either once or twice a year. It's best to check with your insurance advisor to find out the specific arrangements for your policy's premium payments.
What happens if my employee runs into issues filing a claim?
If an employee runs into issues filing a claim, you can put them in touch with the insurance advisor for your group policy, or you can suggest they contact the insurer directly.
Looking for life or health insurance for yourself, your family or your team?
Do you already have an insurance policy? You could find a better plan!
Alea brings you choice, unbiased advice and outstanding service, with access to 100+ options from 25+ insurance companies. If you already have an insurance policy, switching insurance policies with Alea doesn't cost you a thing.
Get free quotes with us today.
An advisor will be in touch to answer all your questions!
---
This article was independently written by Alea and is not sponsored. It is informative only and not intended to be a substitute for professional advice and should never be relied upon for specific advice.